For me Easter is a fun day with children. The day they can eat chocolates or sweets more than usual. Not good for their teeth, but I'm sure they all brush their teeth very well everyday.
Thanks to Arfi with her Spectacular Cupcakes 2008, right now I'm still in the mood for cupcakes. They're also easy to make and easy to decorate too. They're very seldom to fail. I just use simple chocolate cake recipes. I plan to spend more time for decorating the cakes and having fun playing with the colours. I don't use buttercream to frost, but using marzipan. It's easier to be figured according to the event. And children will love it too... especially my little daughter. She helps me decorating the cakes in order to get pieces of marzipan from me. She has no patient until the cupcakes decorated. Cut it short, enjoy and Happy Easter everyone!
Who wants to participate on this event, here is the link: http://www.ismyblogburning.com/events/easter-cake-bake-2/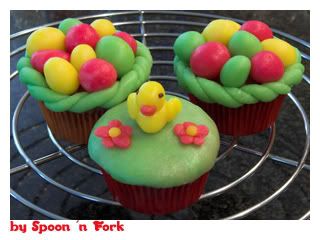 Ingredients:
125 gr soft-butter
125 gr refined sugar
2 egs
125 gr self-raising flour, sifted
2 sps cacao powder, sifted
2 sps milk
Marzipan for decorating
Directions:
1. Preheat the oven to 190°C. Line cupcake pans with paper liners.
2. Beat butter and sugar until creamy and light.
3. Add eggs to the mixture and beat for 1 minute.
4. Add flour & cacao in to the mixture and spatula everything carefully by each other with a spoon. Stir the milk in.
5. Spoon cupcake batter into paper lines. Bake for 20 minutes.
6. Cool 5 minutes in pans then remove and place on wire racks to cool completely. Once cupcakes are completely cooled, ready to be decorated.