It's been quite a while since I made the last swiss roll. From internet, I found this interesting recipes, Pear Swiss Roll(
http://auntyyochana.blogspot.com/2006_10_01_archive.html
). Because here now is the season for Pears, so I really keen to try out this recipes.
Some things I have to change from the original recipes, such as black sesame seeds, I don't have it at home, so I change it with chocolate-snippers. This doesn't give effects to the taste, but maybe for the appearance. And instead of the green colouring, I use pandan paste. If you don't like pandan taste, you should just use green colouring because the pandan fragrant will overwhelm the taste of the pears- filling. And I spread the pear mix straight on top of the cake and let the butter cream disappear, because I don't really like butter cream, but maybe next time I should try using butter cream like written on the original recipes so I would know the difference. And the result is a spongy and light swiss roll cake with the fragrant feeling of pandan and the sweetness pear controlling the tongue.
Ingredients:
For sponge cake:
3 eggs
60 gm. castor sugar
70 gm. cake flour
40 gm. cornoil
few drops of green colouring
some chocolate snipers for sprinkling onto tray
Pear filling:
60 gm. castor sugar
2 pears (peeled, cored and cubed)
1/2 Tbsp. cornflour
1/2 Tbsp. butter
1/4 tsp. salt
1/4 tsp. cinnamon powder (optional)
Directions:
1. Make the fillings first. Mix all the ingredients together and cook in a pot over low heat till mixture thickens then set aside to let it cool completely.
2. Whisk eggs and sugar till light and fluffy.
3. Gently fold in flour, green colouring and cornoil and mix thoroughly taking care not to deflate the eggs.
4. Sprinkle chocolate-snippers onto lined tray 10" x 14" (25 cmx 35 cm).
5. Pour batter onto tray and level it.
6. Bake at 200C for about 8 - 10 mins. Remove from the oven and let the cake cool on wire rack.
7. When the cake is completely cooled, lay onto a piece of greaseproof paper, spread cooked pears on top.
8. With the help of the greaseproof paper, roll the sponge into a swiss roll.
9. Chill before slicing.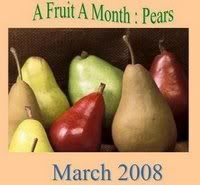 AFAM ~ Pears The Roundup: http://chefatwork.blogspot.com/2008/04/afam-pears-round-up.html